15. (2 soldiers) Two soldiers killed with baggage train.

This site may be the valley behind 41 Academy Street (see below). This site is just west of Arlington cemetery and is surrounded by houses. There is a deep ravine located in the center of this group of houses.
This is the backyard of the house at 41 Academy Street. The wall defines the edge of a deep ravine that is to the left in both of the pictures.
One of the soldiers killed was a Lieutenant who had come out with the convoy for recreation and to view the country.

Presumably, this was Lieutenant Knight of the 4th Regiment


From Samuel Smith (page 30):
"It was probably the officer of this convoy who was seen dead just behind the old Adams house; they knew it was an officer, they said, for his "buttons were all quarters of a dollar."
The dead horses were dragged over to the field just this side of Spring valley at the side of Spy Pond. The bones were visible for many years.
16. (1 soldier) Milk Row Cemetery

(439 Somerville Avenue, junction with school street). The cemetery is chained shut. The site is in the far corner near the back.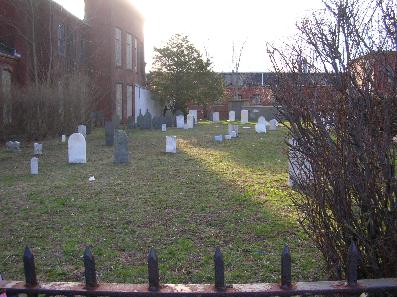 This is the back of the cemetery as taken from the adjacent Market Basket parking lot. The soldier's grave would be in the far back corner.
From "A Brief Guide to Milk Row Cemetery, Somerville, Massachusetts":
"A British soldier, killed during the Battle of Milk Row on April 19, 1775. The bones, found elsewhere c1850, were buried by Osgood Dane in the lower part of the cemetery near the end of the line of tombs. While later building a wall there, Mr. Dane found the bones and reburied them. (approximate location, no marker)"