Site 1: The Boston Commons
The Common was the grazing land of the first inhabitant of Boston – William Blackstone. When the Puritans arrived, and he decided to leave, and sold the land to them. During the time of royal rule, the Common was used as a military encampment, training ground, and armory.

1a. The Armory (possibly on Flagstaff Hill – formerly known as Powder House Hill). A gun house on the common stored two brass field cannons belonging to the Boston Artillery Company. The commanding officer planned to turn the cannons over to General Gage. However, on September 16, 1774, during the changing of the guard, rebellious members of the Company broke in and removed the cannons. When the sergeant discovered the theft he said, "I'll be damned if these people won't steal the teeth out of your head while you're on guard!" The cannons were taken to Concord and hidden at Major Barrett's farm.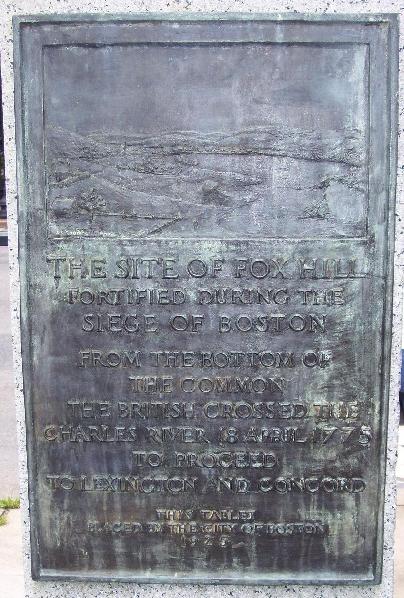 The site of Fox Hill fortified during the siege of Boston From the bottom of the Common the British crossed teh Charles river, 18 April, 1775 to proceed to Lexington and Concord
1b.

The Embarkation Plaque (on the concrete pillars marking the exit to the

Public

Garden

on

Charles Street

).

In 1775, the foot of the commons was a marshland.

This was the perfect place to secretly ferry soldiers across the river to Lechmere Point in the middle of the night for the (planned) secret raid to

Concord

.

Colonel Francis Smith of the 10th Regiment of Foot and Major Pitcairn of the Royal Marines led the troops

| | |
| --- | --- |
| 1c. Central Burying Ground (corner of Charles Street and Boylston Street). Soldiers dying in Boston were buried here in a trench along one wall. After the battle on Breed's Hill, field hospitals were set up in the adjoining houses to minister to the numerous wounded soldiers. | |